Dear Mike,
i can do anything with iTech Solutions
Spooltacular!!
Well, I could be talking about not upgrading from V5R4 or 6.1, having a business partner who can't help you with your questions/requirements, or maybe just Halloween. I guess they are all equally as scary. It is amazing how many clients are still having us upgrade them from V5R4 and 6.1 to 7.1 and 7.2. The good news is we are getting people on a supported release, and they are able to take advantage of everything IBM has put into these new releases. In some cases, we have also been able to move them to a Power8 machine and realize the performance benefits. So, getting current is a great exercise. You certainly want to get all the new features and functions of the new OS releases, but who wants to run their company on an unsupported release? What about a business partner who you can't just call and they will pick up the phone and answer a question? Hey, you don't even have to be an iTech Solutions customer and we will answer your questions. Give us a call or send us an email.
October was another hectic month, mostly from traveling around the world promoting IBM i, education, meeting customers, and giving presentations on various System Management topics. Look, if IBM brings us to their conference to speak on IBM i upgrades, who should you bring in to your shop to do an OS upgrade? iTech, of Course! We do more OS upgrades in a week, than most people do in their lifetime. I think the best part of my job is meeting our customers and non-customers, discussing with them what they are doing with IBM i, and learning from each other. There is so much satisfaction in helping someone get the most from their IBM i. It's a great feeling to know you have made someone so happy by helping them out.
In the US, we change our clocks backwards one hour this weekend. Remember the saying Fall back, and Spring ahead. Don't forget, you should change the batteries in your home smoke detectors each spring and fall when you change the clocks.
Would you like a presentation on the benefits of Power8 or IBM i 7.2? Then contact
iTech Solutions
and we can schedule a presentation and discussion on how we can help you get the benefits of this new hardware and operating system.
This issue of our newsletter has 6 articles. In the first article we discuss keeping your Flexible Service Processor (FSP) up to date. The second article is about Damaged Object detection. The third article is on IBM i Access Client Solutions new release and how to install it.. The fourth is on how to determine your default version of Java and is it installed correctly. The fifth article lists some of the upcoming events in which iTech Solutions will be participating. The last article is for your reference with updated PTF information. Please note that for all 7.1 customers that are on the Quarterly or Semi-annual iTech Solutions PTF maintenance plan, we will be installing 7.1 Technology Refresh 10 for you on your next application of PTFs. For the 7.2 customers, we will be installing 7.2 Technology Refresh 2. When TR11 and TR3 are available later in November, we will be switching to that update.
Having a business partner isn't the same as having iTech Solutions. If you are not getting the support, the help, the guidance, and the advice you need to succeed, then you owe it to yourself to contact iTech Solutions for all your IBM Power Systems running IBM i needs. We can help you upgrade your AS/400 or iSeries to a Power Systems running IBM i, or even your existing POWER5, POWER6, or POWER7 machines to POWER8.
iTech Solutions vast experience can help you improve performance, perform security audits; implement a high availability solution, perform health checks, systems management, remote administration, PTF management, blade installations, cloud-based systems, hosting, replication, and backup/recovery; upgrade an existing machine; or upgrade to a new machine. If you are thinking of LPAR or HMC, then think iTech Solutions. We have the skills to help you get the most out of your IBM i.
For more information on any of the articles below please visit us on the web at iTech Solutions or email iTech Solutions. We would love for you to let us know any articles that you wish for the future, or if you enjoy any of the articles in the current newsletters.
___________________________________________________________________________
Keeping your Flexible Service Processor (FSP) Firmware up to date

.
I originally wrote this article for IT Jungle, and it was published in their October 06, 2015 edition of the Four Hundred Guru
Last month, Larry Bolhuis discussed PTFs in our monthly IT Jungle System Management articles and I would like to keep with that theme. That is an extremely important topic, and I want to continue along on that theme of staying current. So, this month we will discuss determining the level of firmware of your Flexible Service Processor (FSP). If you don't know what level it is currently running, you won't know if it is up to date or not. It's just as important to keep this up to date as your PTFs, your release of IBM i, or your Hardware Management Console (HMC) firmware. In all my travels, it seems people aren't keeping their HMC or FSP up to date.
Let's start with some basics. Every Power5, Power6, Power7, and Power8 machine has an FSP. The FSP has three copies of firmware. There is a Temporary copy, a Permanent copy, and the Active copy. If you look at your bezel (the small, lighted display on your Power System machine, about two inches high by four inches wide), you will see either a T or P in the lower right-hand side of the display. If it has a T, you are IPLing the FSP from the T side, and if there is a P, you are IPLing the FSP from the P side. In normal situations, you should always be IPLing from the Temporary side. The third copy, which is the active copy, is what is currently running. This is very similar to the two sides of the Licensed Internal Code (LIC) of IBM i. We refer to those two sides of the LIC as the A side and the B side. The A side has all the permanently applied PTFs for the LIC, and the B side has both the temporary and permanently applied PTFs for the LIC. If you do a DSPPTF, it will tell you the IPL Source, as either ##MACH#B (The B side), or ##MACH#A (The A side). As you can see below

We don't actually apply individual PTFs to the FSP firmware as we do with IBM i. The FSP has a level of firmware that can be loaded from each side. Beginning with V5R4M5, and PTF'ed back to V5R4M0, there is a command called Display Firmware Status (DSPFMWSTS). This will easily show you the firmware levels as well as other information. Here is a display of a machine that has an HMC attached to it: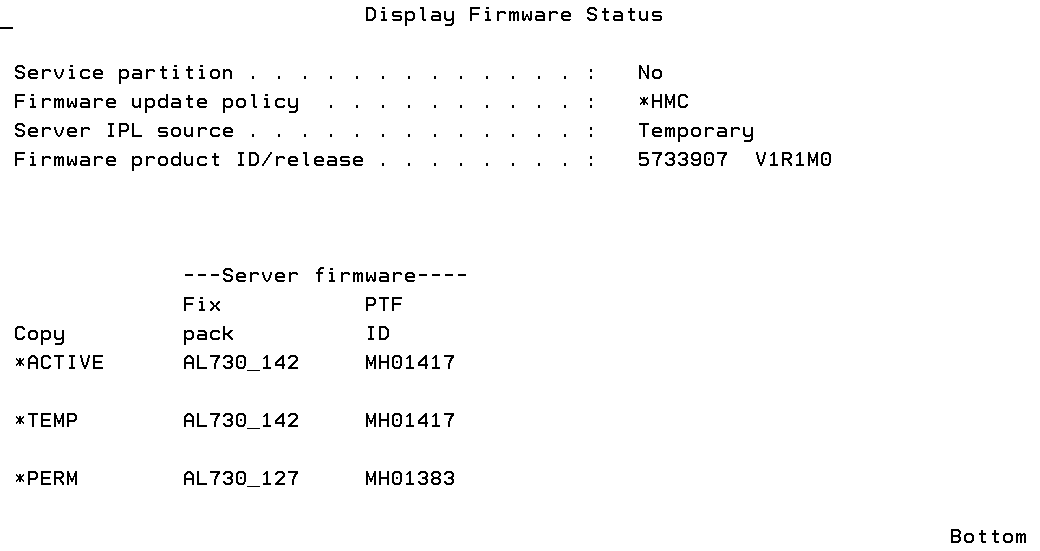 Let's go over a few items on here. On this machine, we can see that the FSP Firmware gets its updates from the HMC, as the Firmware update policy is set to *HMC. That means you would use the attached HMC to update the FSP firmware. There are a few advantages to this, the first being that in some instances you can do concurrent updates to the firmware. When the Firmware update policy is set to *OPSYS, the updates are always disruptive, meaning they require an IPL. When the policy is *OPSYS, the FSP firmware is updated by the operating system when you install PTFs for the specified firmware product ID. The product ID is 5733-90x (where x is 5, 6, 7, or 8 for Power5, Power6, Power7, and Power8 respectively). When you load PTFs to that product, the firmware of the FSP will be updated during the next IPL. I will show you a screen shot of that shortly.
When you are updating the firmware via PTFs to the operating system, there are a couple of things to know for this to succeed. The first is that if there are multiple partitions on the machine, then all other partitions on the server must be shut down when this partition is IPLed to apply the PTFs. The second is if there is one partition or multiple, at that time, not only will IBM i IPL, but the Service Processor will also restart to load the new firmware to the FSP. This is known as a Deep IPL, as it includes the server firmware. You can imagine that this will extend the IPL time beyond the time require to apply IBM i PTFs.
Notice the Server IPL source. In this case it says Temporary, as the last FSP IPL used the temporary copy of the firmware. If the Server IPL source had shown Permanent, it would have used the permanent copy during the IPL. Next on the display are the three copies of the FSP firmware and their levels.
I want to now show you a screen shot from a Power8 machine, as this has a new field. Notice the Firmware entitlement date. Starting with Power8, IBM has provided a date until which you can update your firmware. After that date, you will need a new firmware entitlement key to update the server. Firmware with a later date will not be activated until a valid entitlement date is detected.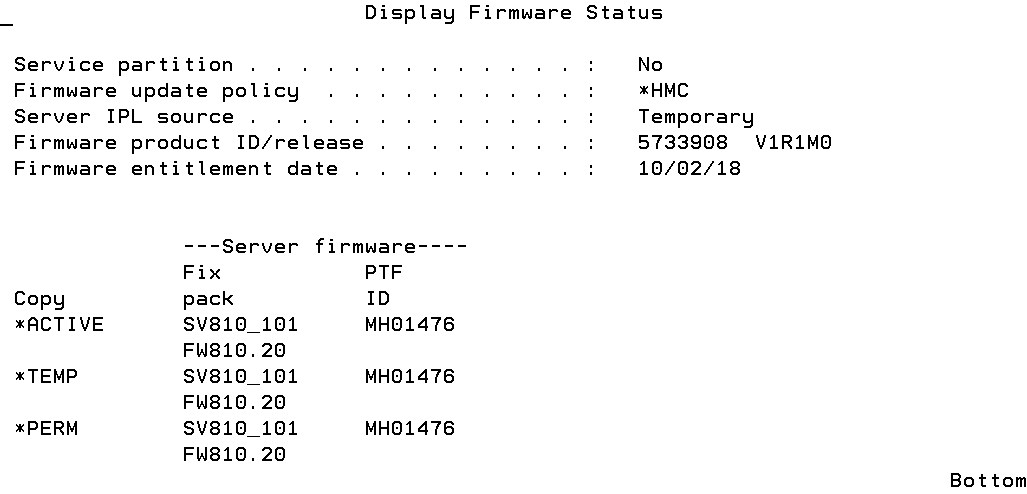 The next screen shot is from a standalone machine (one with no HMC). This shows a little different information. First, notice that the Firmware update policy is set to *OPSYS. This means the updates to the FSP will come from applying PTFs to 5733-90x (where x is the generation of Power). Second, column Operating system shows PTF information. Remember, you can use the command DSPPTF 5733-90x, where x is the generation of Power, to see which PTFs you have loaded to the operating system.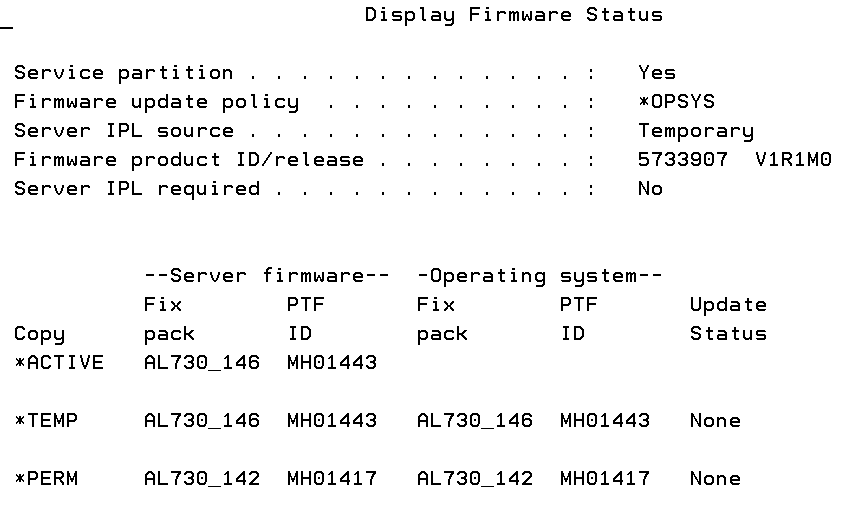 Its important to keep your machine up to date with PTFs, OS levels, FSP Firmware, as well as HMC firmware. There is a compatibility guide (
https://www-304.ibm.com/webapp/set2/sas/f/power5cm/supportedcodep8.html
) for supported combinations of FSP firmware and HMC firmware that you also need to be aware of.
[THH1]
When using the IBM chart, just select the tab of the generation Power System you have, and then find your machine and click on it to see the combinations of FSP and HMC Firmware that are supported. I can tell you from experience, it is easier to keep everything up to date, than to have to catch up when someone hasn't been keeping up to date with any of these updates. If you would prefer for iTech Solutions to upgrade your FSP firmware, or your HMC Firmware, then send us an email to
sales@itechsol.com
.
---
Damaged Object Detection.
You know for the longest time, people used to run ReClaim Storage (RCLSTG) to find damaged objects, but in actuality it didn't always find everything. Plus, you had to put your system in a restricted state to run the reclaim storage (meaning nothing else is running on your machine, other than your RCLSTG). I have found over the years, the best way to uncover damaged objects is with a full system save (i.e. GO SAVE 21). Unfortunately, that too would require the system to be in a restricted state, and if the save did find a damaged object it would fail. Alternatively, you could bring the system up after the SAVSYS and do a SAVLIB *IBM, SAVLIB *ALLUSR, SAVDLO, and SAV but if something was locking an object it wouldn't get saved. Now, there is a new function available as part of the operating system. I had been a Beta tester for this some time ago, and I had totally forgotten about this. This isn't a typical CL command, so the interface isn't as clean as I would like. You use QSHELL to execute this.
You can run this without your system being in a restricted state, but be careful. This is extremely I/O intensive. Let me repeat, do not run this during the day as it is extremely I/O intensive and your disks will be very very active. You can run it for each disk, or you can run it for all your disks. Eventually you will need to run it for all your disks; you just don't have to do them all at once. You need to start QSHELL with the STRQSH command, and then enter the shell command:
/QIBM/ProdData/OS/OSGi/templates/bin/areVerify.sh –storage diskUnits=*ALL
If you want to do the individual disks one at a time, you can enter the number of the disk unit instead of *ALL. You can also enter multiple unit numbers separated by commas. This will load quite a few jobs into QCTL, in my case it loaded 26 jobs, here is a screen shot from QCTL:
During the beta of this, I didn't have my CCSID set correctly and it wouldn't work. That is still the case, you need your CCSID set correctly, and not to 65,535. While this is running the messages keep getting displayed in your job running under QSHELL, and here is the last screen. Notice, that it found no errors on my system.
If you would like additional information on this please contact us via email, or want to discuss how iTech Solutions can perform this for you as part of our iTech Solutions Remote Maintenance & System Admin.

---
IBM i Access Client Solutions: Customization and deployment made easy.
.
The last few months we have written a few articles about installing, downloading, and configuring the new IBM i Access Client Solutions. As you know, the current version of IBM i Access that came out with IBM i 7.1, will be the last version of the windows client we have all grown up with. If you upgrade to Windows 10, the client version will not work, and you have to use the java version, which is IBM i Access Client Solutions. Sometimes referred to as ACS.
IBM just released a new version of the software in October, and wrote a great article on customization and deployment, that I wanted to share the start of the article, along with the link to the entire article.
Several articles have been written about the features and functions of IBM i Access Client Solutions. This article provides details about three quick and useful ways to deploy IBM i Access Client Solutions and provide administrators details on how to exclude functions they do not want their users to have available. A new wizard included in the October 2015 update can assist in making these types of deployments even easier.
If you have not already downloaded IBM i Access Client Solutions, refer to the product web page.
This is stated on the product web page and is worth mentioning here:
IBM i Access Client Solutions uses the same IBM i host servers as the other IBM i Access Family of products and requires the same IBM i Access Family license (5770-XW1) in order to use the 5250 emulation and Data Transfer features.
I'm going to assume that as an IT administrator, you are already familiar with IBM i Access Client Solutions functions such as 5250 emulation, Data Transfer, Printer Output, Consoles, and so on and that you most likely have the following two questions:
How can I hide certain functions from my users (for example, Console tasks)?
What is the best way to deploy IBM i Access Client Solutions to my users?
In answer to the first question, a deployment wizard has been added to address this requirement. The wizard leads you through a series of questions, asking which functions should be available. You can let your users decide the functions they want to use, or you can limit their options. The wizard is part of the same script used to deploy the product.
In answer to the second question, the answer is, it depends. Whether you have a few or several thousand users, a variety of options for deployment are possible.
If you need some help installing this, contact iTech Solutions.
---
My default version of Java?
We have had a few articles on different version of Java this year. Especially since you can have many different Java Runtime Environments (JRE) loaded for each release of IBM i. Be very careful, because as you upgrade your operating system's release, IBM will add new JREs and remove older JREs. For example, when you upgrade from IBM i 7.1 to 7.2, Java 1.5 is no longer supported. In IBM's defense, nor should it be. This is a very old and deprecated version of Java and you are well advised to move your applications to a newer version. In the June 2015 iTech Solutions Newsletter, we wrote about using the Work Java Virtual Machine Job (WRKJVMJOB) command. You should be using this command prior to any OS upgrade so that you can determine which jobs are using what version of Java. This will alert you of any potential problems.
To validate that Java is installed correctly, I like to use the command JAVA *VERSION. The JAVA command runs the Java program associated with the specified Java class. If no Java program exists, one is created and associated with the class file. This command can operate on files in any file system that supports the integrated file system APIs. There is also a special parameter that you can pass instead of a program, and that is the value *VERSION. The build version information for the Java Development Kit (JDK) and the Java Virtual Machine (JVM) is displayed. No Java program is run. When you run this, it will produce a screen like below:



If you need the correct versions of Java installed on your machine, then contact iTech Solutions.
---
Upcoming Events



Some of the events that we will be speaking at or exhibiting at are listed below. Don't forget the iTech Solutions web site at http://www.itechsol.com.
October 18 - 20 COMMON Sweden Data3
www.data3.se
-
Plats: Elite Marina Tower Hotel
What you need to know to upgrade to IBM i 7.1 & 7.2
HMC, FSP, Firmware: Putting all the pieces together
Step by Step guide to creating guest IBM i partitions hosted by IBM i
Cool things on Managing your system with Navigator for IBM
October 21 COMMON Belgium www.common.be -

What you need to know to upgrade to IBM i 7.1 & 7.2
HMC, FSP, Firmware: Putting all the pieces together
Step by Step guide to creating guest IBM i partitions hosted by IBM i
January 21, 2016 1:00pm EST IBM i hosting IBM i webinar
- more details to follow.
---
Release levels and PTFs
People are always asking me how often they should be performing PTF maintenance, and when is the right time to upgrade their operating system. I updated this article from last month with the current levels of PTFs. Let's look at PTFs. First, PTFs are Program Temporary Fixes that are created by IBM to fix a problem that has occurred or to possibly prevent a problem from occurring. In addition, some times PTFs add new functionality, security, or improve performance. Therefore, I am always dumbfounded as to why customers do not perform PTF maintenance on their machine at least quarterly. If IBM has come out with a fix for your disk drives, why do you want to wait for your disk drive to fail with that problem, only to be told that there is a fix for that problem, and if you had applied the PTF beforehand, you would have averted the problem. Therefore, I think a quarterly PTF maintenance strategy is a smart move. Many of our customers are on our quarterly PTF maintenance program, and that provides them with the peace of mind of knowing their system is up to date on PTFs. Below is a table of the major group PTFs for the last few releases. This is what we are installing for our customers on iTech Solutions Quarterly Maintenance program.
| | 7.2 | 7.1 | 6.1 | V5R4 | V5R3 |
| --- | --- | --- | --- | --- | --- |
| Cumul Pack | 15135 | 15142 | 15063 | 12094 | 8267 |
| Tech. Refresh | 2 | 10 | | | |
| Grp Hipers | 47 | 151 | 210 | 204 | 169 |
| DB Group | 8 | 37 | 33 | 33 | 24 |
| Java Group | 7 | 22 | 33 | 34 | 23 |
| Print Group | 3 | 12 | 31 | 49 | 20 |
| Backup/Recov. | 16 | 51 | 61 | 57 | 33 |
| Blade/IXA/IXS | 1 | 16 | 30 | 15 | - |
| HTTP | 11 | 36 | 46 | 36 | 17 |
| TCP/IP | 2 | 9 | 17 | 22 | 16 |
| Security | 22 | 47 | 60 | 32 | |
| High Availability | 2 | 8 | 5 | | |
| Hardware | 12 | 22 | 17 | | |


The easiest way to check your levels is to issue the command WRKPTFGRP. They should all have a status of installed, and you should be up to the latest for all the above, based upon your release. Now there are more groups than the ones listed above, but these are the general ones that most people require. We can help you know which group PTFs you should be installing on your machine based upon your licensed programs. Here is a nice tidbit. The Cumulative PTF package number is broken down as YDDD, where Y is the year and DDD is the day it was released. Therefore, if we look at the cumulative package for V7R1, the ID is 13287. We can determine that it was created on the 287th day of 2013, which is October 14, 2013. Look at your machine and this will give you a quick indication of just how far out of date in PTFs you may be. I left V5R1 & V5R2 off the list, because if you are on V5R1 or V5R2, you don't need to be worrying about PTFs, you really need to be upgrading your operating system. The same can be said for V5R3 & V5R4, but there are still customers who are on those releases.
HMCs
If you have a Hardware Management Console (HMC,) you should be running:
Model
Release
Service Pack
HMC
V8R8.3

SP1 MH01540, and then MH01565

HMC
V8R8.2

SP2 MH01488

HMC
V8R8.1

SP 2 MH01452, then MH01550

HMC (CR4 last release)
V7R7.9

SP 2 MH01451

HMC
V7R7.8

SP1 MH01397 then

SP 2 MH01432, then MH01548

or
V7R7.7

SP 3 MH1397, then SP 4 MH01415,

then MH01516
HMC C03
V7R3.5
SP4
If we have a model listed above in the HMC column that is the highest level of firmware that model of the HMC can be upgraded to.
Note that release 8.8.x does not support any POWER5 servers.
Version 7.7.9 is not supported and cannot be installed on HMC models C03, C04 or CR2.
If an HMC is used to manage any POWER7 processor based server, the HMC must be a model CR3 or later model rack-mount HMC or C05 or later desk side HMC.
HMC V8R8.1 is supported on rack-mount models CR5, CR6, CR7 and CR8; and on desktop model C08. These listed models meet or exceed the V8R8.1 minimum memory requirement of 2GB however 4GB is recommended.
If you want to manage a POWER8 machine, you need to be on at least HMC 8.8.1
If you have an Flexible Service Processor (FSP) your firmware should be:
Machine Processor
Model
Version
Notes
Power5 or 5+
520, 515, 525, 550, 570
SF240_418_382
last
Power6
940x, M15, M25, M50
EL350_166_074
last
8203-E4A, 8204-E8A, 8204-E4A
EL350_166_074
last
MMA, 560, 570
EM350_166_074
last
9119-FHA
EH350_166_074
last
Power7
8231-E1B, 8202-E4B, 8231-E2B, 8205-E6B, 8233-E8B, 8236-E8C
AL730_149_035
9117-MMB, 9179-MHB
AM780_071_040
8231-E1C, 8202-E4C, 8205-E6C
AL740_159_042
9117-MMC, 9179-MHC
AM770-109_032
Power7+
8231-E1D, 8202-E4D, 8231-E2D, 8205-E6D
AL770_109_032
8408-E8D, 9109-RMD
AM770_109_032
9117-MMD, 9179-MHD
AM780_071_040
Power8

8247-21L

,

8247-22L

,

8284-22A

,

8286-41A

,

8286-42A

SV830_048_081
If you need help with upgrading your HMC or FSP just give us a call. We will be happy to perform the function for you or assist you in doing it. Contact Pete Massiello.